Rolling Hills Estates Office
927 Deep Valley Drive Suite 140
Rolling Hills Estates, CA 90274
For your convenience we are happy to offer three office locations to serve your orthodontic needs. We offer a full range of dental services for the entire family including traditional braces, clear ceramic braces, the latest invisible aligner treatment such as Invisalign, removable retainer treatment and early corrective treatment. We have been located at our Rolling Hills Estates location for over 20 years which serves Palos Verdes, Rolling Hills Estates, the South Bay, the Palos Verdes Peninsula and surrounding areas. It is conveniently located on Deep Valley Drive directly behind the Bristol Farms Shopping Center and just down the street from The Peninsula Avenues Mall and Peninsula High School.
When it comes to excellent orthodontic care for all of our patients in the Rolling Hills Estates area, Dr. Kardovich wants everything to be easy, including paying for treatment. Our specially trained team works closely with you to design a payment program that fits your personal needs. We accept most major credit cards such as Visa , MasterCard and Discover as well as a variety of PPO insurance plans. In addition we also accept Care Credit. Together, we'll make achieving a beautiful and healthy smile surprisingly affordable and simple for everyone.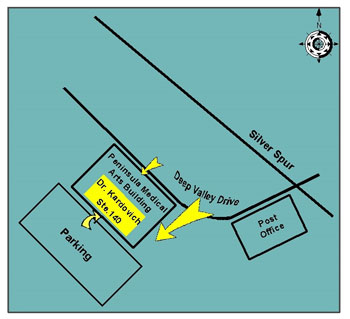 Driving directions to the Rolling Hills Office:
From San Pedro:
Take Western Ave North
Turn left onto Palos Verdes Drive North
Turn left onto Crenshaw Blvd
Turn right onto Silver Spur
Turn left onto Deep Valley Drive
Our parking lot entrance is on the left between the post office and our building
From Harbor City, Carson, Wilmington:
Take Western Ave South
Turn right onto Palos Verdes Drive North
Turn left onto Crenshaw Blvd
Turn right onto Silver Spur
Turn left onto Deep Valley Drive
Our parking lot entrance is on the left between the post office and our building
From Torrance, Redondo Beach, Hermosa Beach:
Take Crenshaw Blvd South
Turn right onto Silver Spur
Turn left onto Deep Valley Drive
Our parking lot entrance is on the left between the post office and our building