PURPOSE: In order to achieve an excellent orthodontic result it is often necessary to gain space by reducing the width of some of the teeth. When the teeth are crowded it usually does not work to just put on the appliances and make the teeth straight. The decision is often to remove certain teeth (extractions) or reduce the width of some of the teeth.
PROCEDURE: It is done with fine discs and dental drills. It is frequently done in several stages.
IT LOOKS LIKE THIS: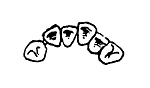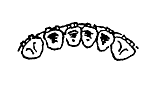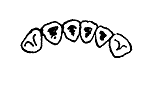 Crowded Teeth Before
       Appliances in Place
       Treatment Complete
EFFECTS ON THE TEETH: Only a tiny amount of enamel is removed from the surfaces of several teeth. This is a low risk procedure. A considerable amount of research has shown that there is neither an increase in tooth decay nor gum disease.
CARE: Be sure to use a fluoride toothpaste to protect all tooth surfaces. A fluoride gel or mouthwash may be recommended for you.
SUMMARY: Tooth width reduction is essential for the successful correction of your teeth. It is a low risk procedure and we have had many years of experience doing it. We welcome your questions and we are happy to show you additional examples of excellent results using this technique.